Mobile application & website development Mobile application & website development Mobile application & website development Mobile application & website development Mobile application & website development Mobile application & website development Mobile application & website development
Mobile application & website development Mobile application & website development Mobile application & website development Mobile application & website development

Website Development
We deliver best solutions to fit both your business requirements and budget. Our skills and expertise around this technology is undisput.

Android Application
We create customized applications which are powerful and scalable for any android devices. We are providing android application development service globally.

iOS Application
We solve real-life problems and replace traditional business processes on iPhone and iPad devices with responsive, industry standard code, and highly-usable solutions as iOS apps.
PERFECTLY RESPONSIVE
Our Team Is Here For
Your Satisfaction
Your Pleasure
We understand that not everyone is a web aficionado, that's why we take complete responsibility of getting your website Up and Running.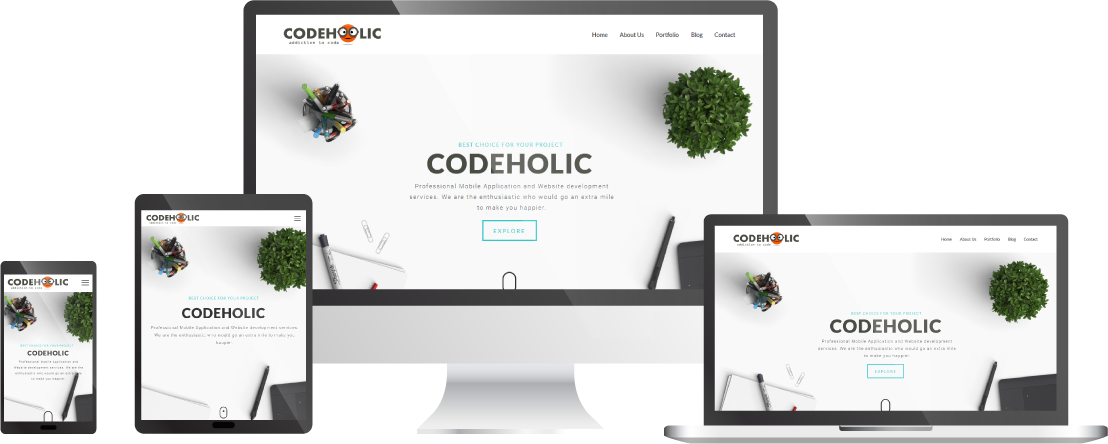 Get Featured In The App Store
We love taking ideas and turning them into real apps.
We are passionate, creative, and have experience developing
products as entrepreneurs.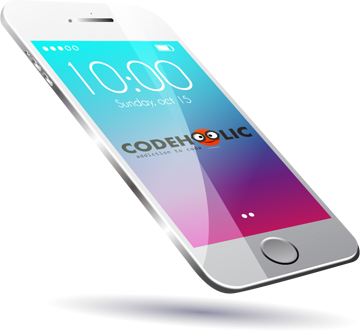 Our Mission
Our Mission i.e Realistic Implementation. We always love to help you on how to market your brand that will transform your ideas into a design.

Why choose us
When professionalism & quality matter, choose Codeholic!

Good Design
We believe that good design is the starting point for all of our developments.

Empowering people & business
We promote small & medium sized businesses online & work together with Startups to develop disruptive technology.

Trust
Trust our team to provide quality service, whatever the job!
We love our clients and makes them
Our tagline 'Addiction to code' well expresses our mission of providing highly functional and realistic implementation.
Best value services
Codeholic offer a well defined knowledge base assuring clients that you have made the right choice. We seek to build long term relationships with our clients & to partner them in mutual business success.
Our goal
Our goal is to achieve customer satisfaction by striving to expand our capabilities & continuity to heighten the standard of excellence by completing tasks responsibly and efficiently.
Hundreds of happy clients!
We always strive extra hard to bring that smile on your face.
Team I've Always been able to count on for any website project for Homefans. They are fast, helpful and very friendly. They work hard and understands the requirements we had. Codeholic tackled any issue with Homefans and always worked hard to come up with new options for our site. Their coding is fantastic and they always work hard to meet the deadlines. I highly recommend using team Codeholic for your next project and we will continue to work with them as well!
Luke
Enschede, Netherlands
This team I've always been able to count on for any website project. They are very fast and diligent, very understanding, and work hard to tackle any project I've asked them to help with. Their knowledge of Wordpress (and any coding for that matter) is second to none. I know when I have a deadline to meet, Codeholic team will beat it. I highly recommend using this superb team for your next project. Your clients will love you knowing you can trust your most difficult tasks to the very capable hands.
Jason
Winnipeg, Canada
Codeholic team, was very committed, always available, Honest, kind and try to find always a better solution, to meet and satisfy our need, and they always try to fix any issue even if they have to work overtime, evening and weekend, we definitely recommend this team, and we wouldn't hesitate a second to give them or best recommendation. Dear team thank you very much for all your hard works kindness and offer to make our site up and going the best we can expect, and we will hire you again and again.. thanks
Dr. Kimo
Oslo, Norway
These guys are competent developers who work consistently turns work around on time. When presented with explicitly articulated instructions and mockups, they are always able to execute tasks successfully.
Harish Amritlingam
One of the best people I've ever hired. Very fast, expert work, with great communication. Did the job I asked very quickly, did it right, and everything works. Exactly the type of person you want on your team. Highly recommended, and will hire for future work.
Brian
Georgia , US
Always good to work with, I have worked with Codeholic team for many years and they have been excellent throughout.
Harlan
Newcastle, Australia
Quality and develop the website according to the customer. Good listeners and focuses on the details. They have the right competences for this particular work.
Judith
Sweden
It has been excellent working with Codeholic team and we look forward to many more projects with them.
Rob Bryer
Hythe, UK
Codeholic team did an amazing job on our website. They were extremely professional and did not rush me to get done. They took all of the direction I gave and did tasks immediately. Highly recommended!
John Alaei
Willowick, US
Absolutely fantastic team to work with. Totally recommend! Excellent designing and website development Skills.
Sri
Colchester, UK
Awesome team! Quick and top quality work! Highly Recommend.
James Jordan
Wellesley, Canada
Fantastic provider. Went above and beyond and completed PERFECTLY! Well done!!
Ashok Dilawri
Miami, US
Meet Us
We create AWESOME presentations which represent thousands of happy clients all over the WORLD.
Face to face
3rd Floor, Baza Plaza, Ukhri Chowk, Next To Global Hospital, Jabalpur (M.P), India 482002
Calling is passion
(+91) 0761 4038442
(+91) 9926565586
We love emails
hello@codeholic.in
hr@codeholic.in